As some of you may know I'm visiting my hometown in Borneo for the holidays and I decided to do some trips out into the jungle. My father in-law used to work for the forestry department so he planned a trip me out on trip to Gunung Piuh (Gunung means mountain) and set-up a camp to have a barbecue by a stream.
These are shots of the stream at the bridge before the entrance to the resort. There are no people tending to it and it is just open to the public to come and go as they please.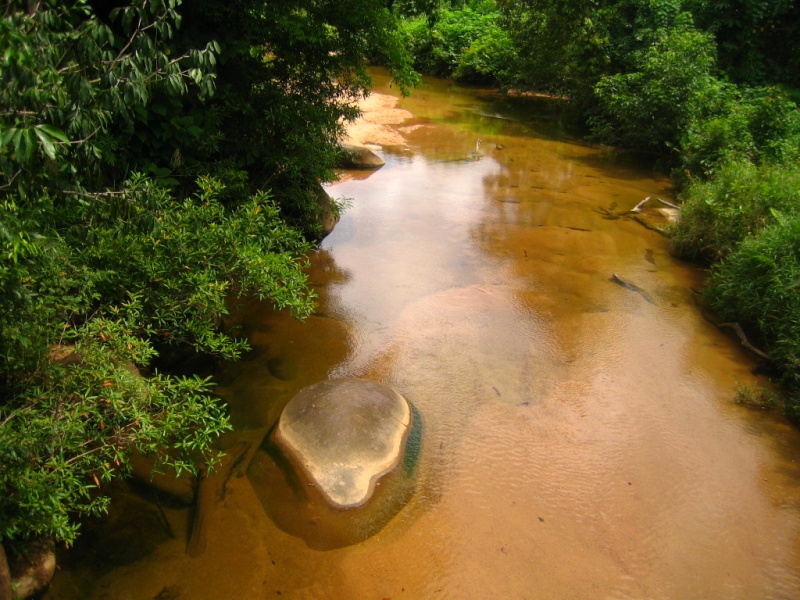 This is a typical idea of what its like to be in the thick of Borneo's primary rainforest.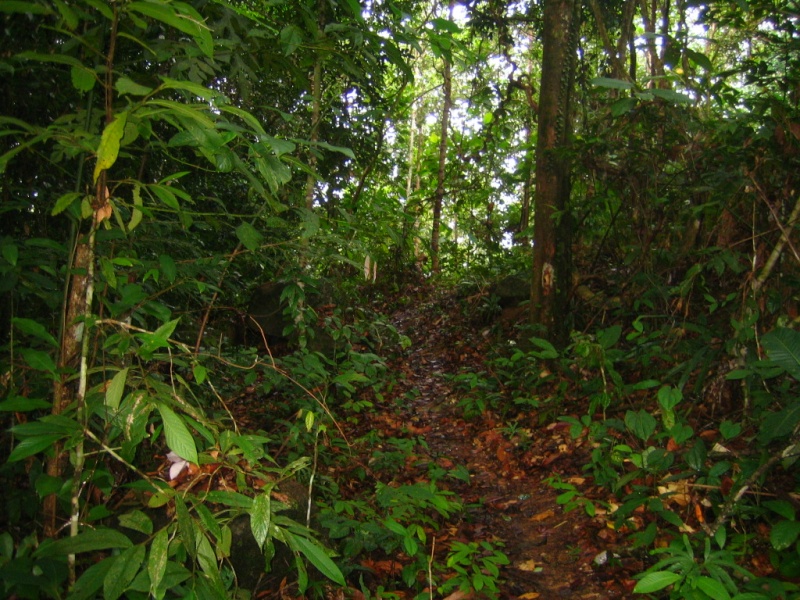 Should've taken more pics like this but no worries I'll take more on my next excursion.
Borneo is renowned around the world for its immense untapped natural heritage. But sadly enough, attitudes towards conservation among the locals here and the local authorities is frustratingly lackadaisical. Here are some pics portraying some extent deforestation that is occurring just outside the forest resort.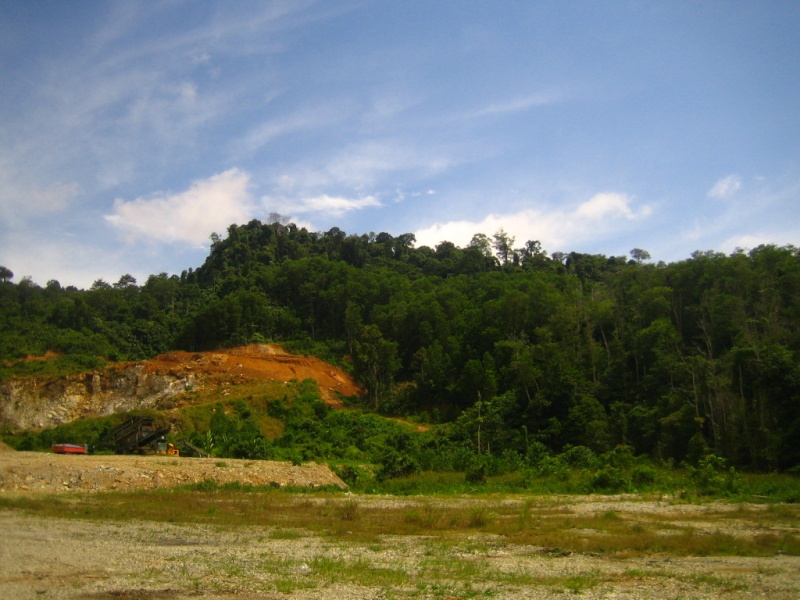 These are of the stream deeper in the resort along which we decided to set up camp.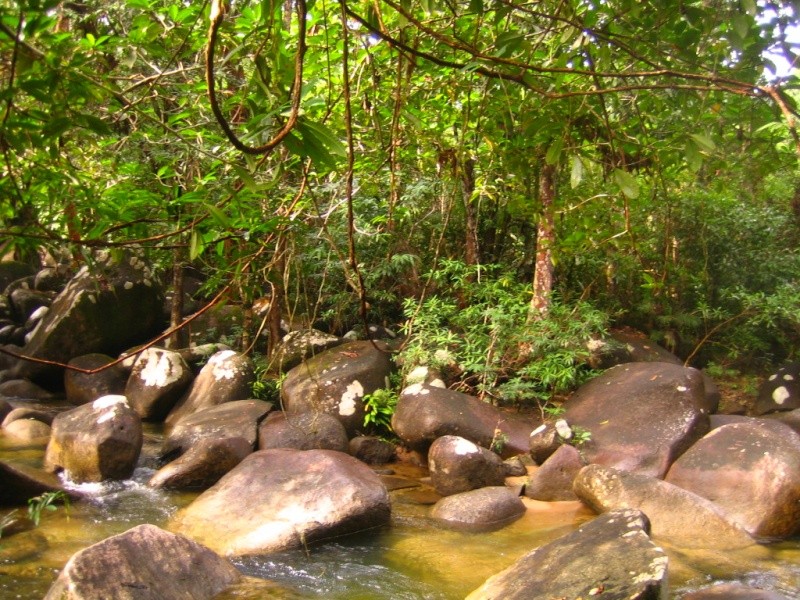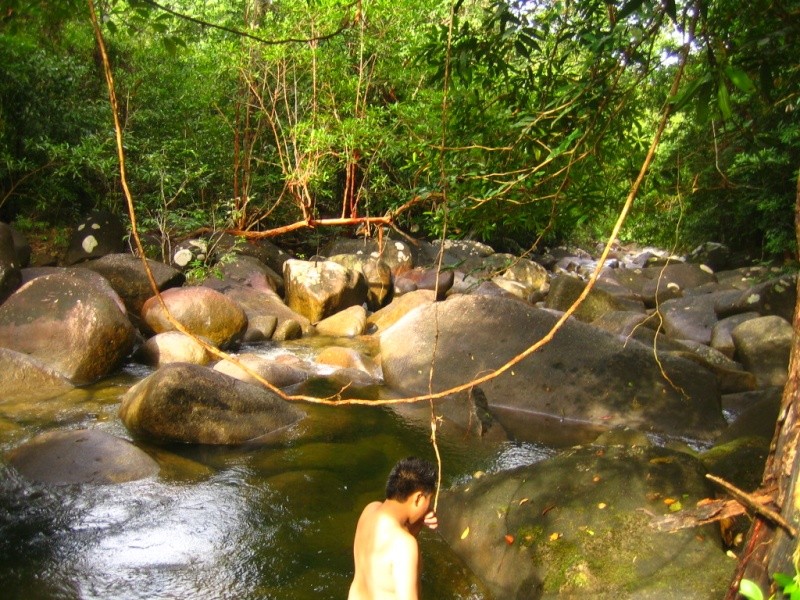 That's my wife's sister's son: Sean, in the foreground
While we scrounged around for splinters to make a fire, torrential rain began to pour down on us. We scrambled to erect camp but we were all soaked by the time we finished. We waited it out and began starting the fire once the rain settled. Here's a pic of my father in-law and his friend John. Both are Iban (the largest ethnic group of indigenous people in Sarawak renowned for their head-hunting but thats ancient history).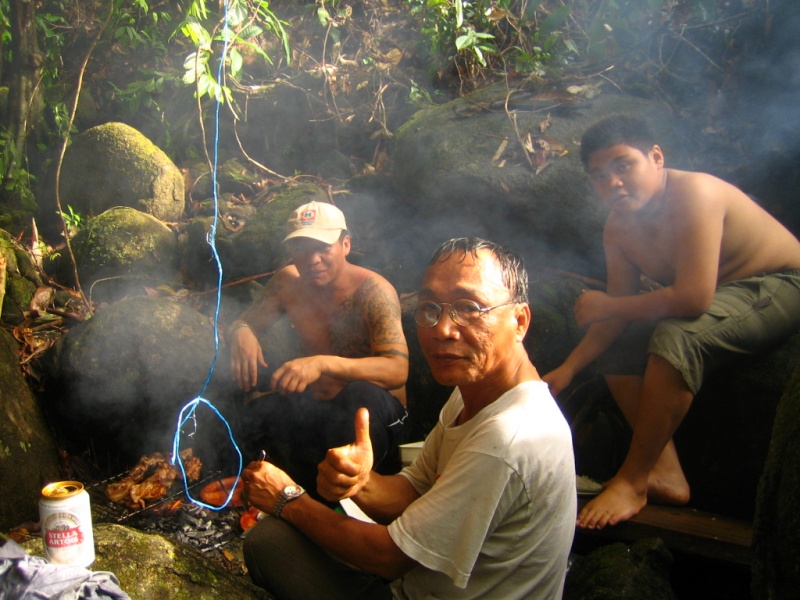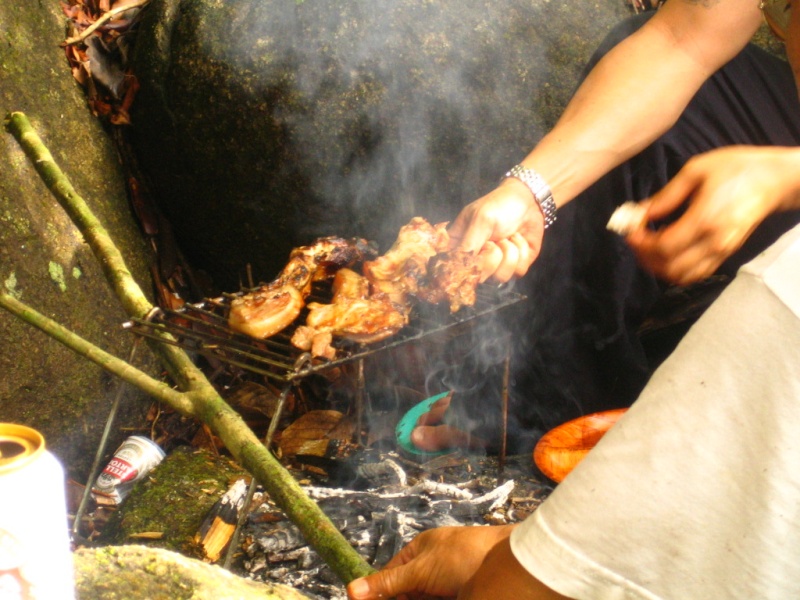 A closer shot of the delicious Iban style pork-chop bbq in the jungle (a thousands pardons to Muslim viewers). After chowing down and a short dip. I went on my own to start collecting, combing the leaf litter and turning over felled logs. My nephew in-law, Sean, decided to tag along. Its really great he's getting into the nature stuff at an early age.
Being that its a public resort; meaning that there is a volume of visitors on a frequent basis, I didn't manage to find anything really interesting or unique save a couple of jumping cockroaches and crickets. Nevertheless we manage to bag these; 1. a cute millipede, 2. a centipede and 3. a little brown huntsman spider.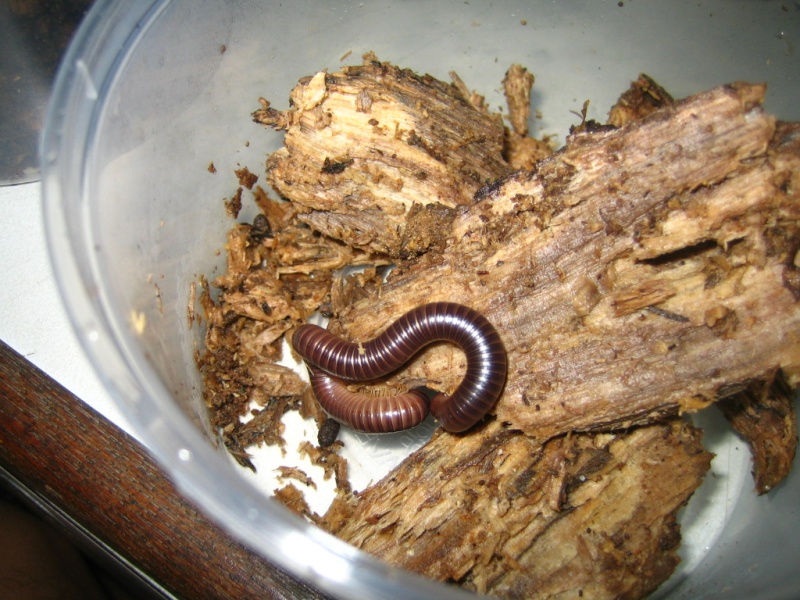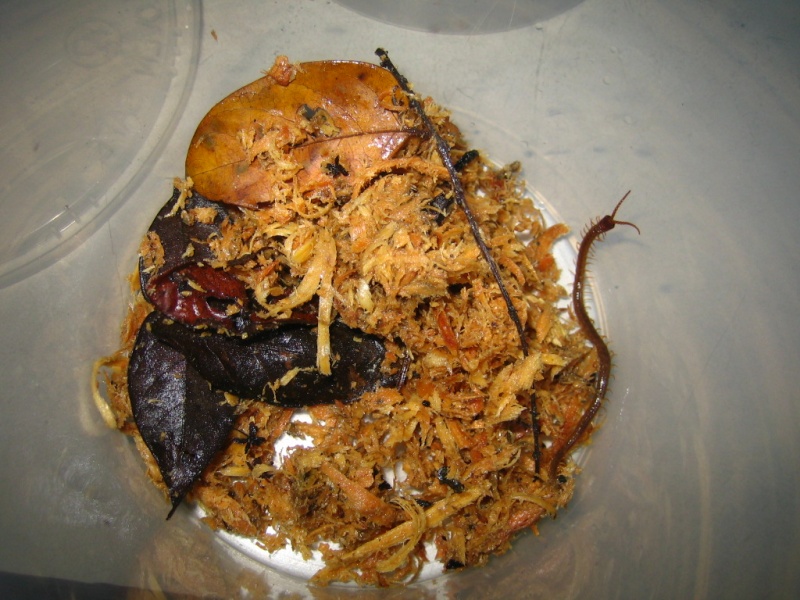 This particular centipede species is extremely long in proportion to its size and has an uncanny behavior of crawling in reverse when disturbed. I think it could be a
Mecistocephalus castaneiceps
.
I intended to give this to Sean after I take some photos but it died shortly after.
Soon after, John and my father in-law joined us. We decided to try our luck with felled logs that we saw by the side of the road on the way out. The logs were extremely decayed, brittle and damp. They literally crumbled into mulch as we tried to move them. This is what we yielded sifting through the debris:
4. a giant black forest roach (
Panesthia angustipennis
, not sure of subspecies)
*I believe this to be a female, I'm hoping to see if she pops.
5. a colony of beetles eating out the logs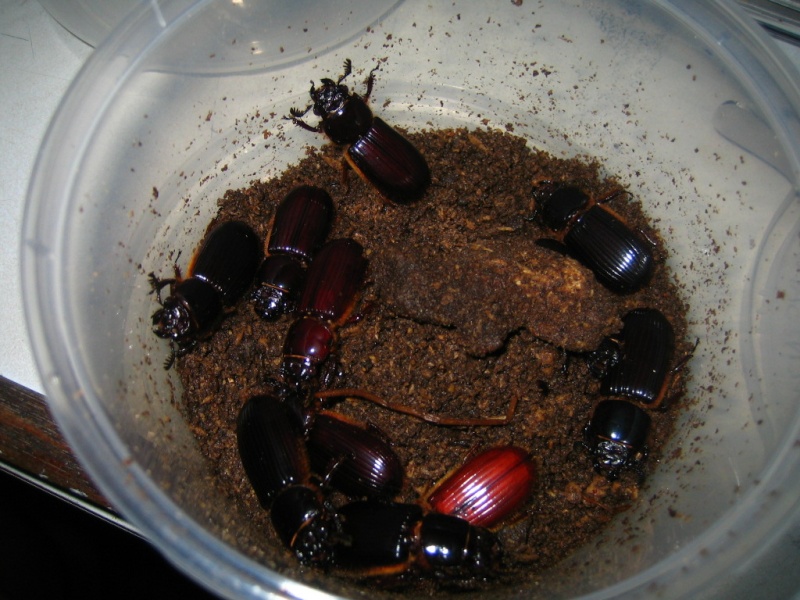 They are dozens of these things just boring through the rotting wood
I'm gonna set these up in a forest litter community tank with the millipede and leave it here with Sean as training.
and finally 6. the catch that made my day: a whip scorpion (order Uropygi) I'm suspecting it to be
Thelyphonus doriae
.
This has to be one of my most favorite arachnids. I used to find heaps of them as a kid.
I hope to find as many as I can and bring them back with me.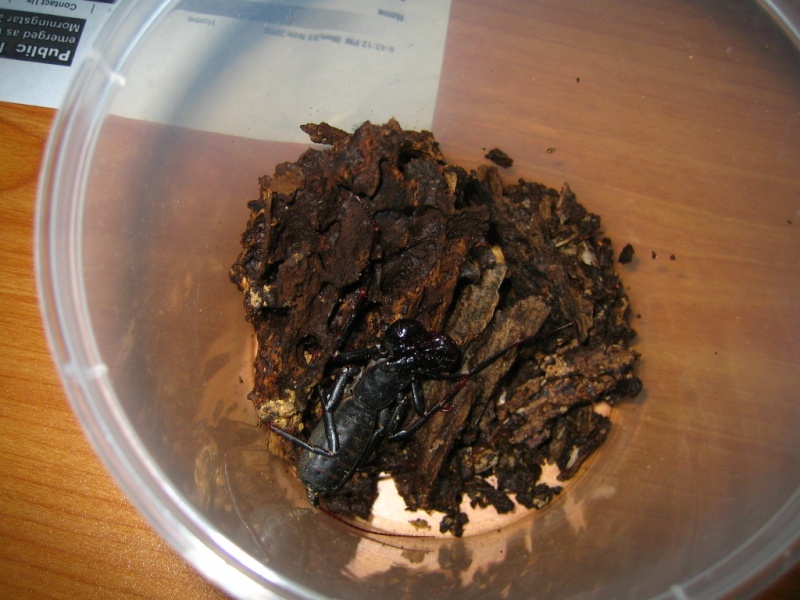 I love the way they scan the terrain with their front legs as they walk.
put this up on your list of weird and strange insects Nick Baker....
Until next post on this thread...
P.S. can anyone help verify the id of the animals for me? the roach, the beeltes, the centipede and especially the whip scorpion