Looks like you got a pair of soul mates there. I have no scientific evidence to back up this hypothesis. Nonetheless, I have over the years observed a wide range of peculiar if not bizarre communal behavior with my
H. spinifer
broodlings. I have successfully raised a total of 17 captive hatched
H. spinifers
; 3 of which have been sent to study (board) abroad with my buddy in Hong Kong lol. This is the display tank where I keep my 5th to 6th instars.
In here there are two large pieces of drift wood half-buried in the substrate and a broken flower pot fragment to provide shelter. Around the edges of these are roughly 6 to 7 burrow entrances; 3 of which I dugout for them. One their own, the scorps have constructed a large master chamber at the bottom from which these entrances branch out. For the most part, the majority of them huddle down there together in some kind of pre-ordained cultish order.

When this picture was taken they were about 8 scorpions in this tank. At any one time, 3 or or four of them would each occupy any one of the burrow entrances with their chela outstretched and ready to seize 'mana falling from the sky' (crix) lol.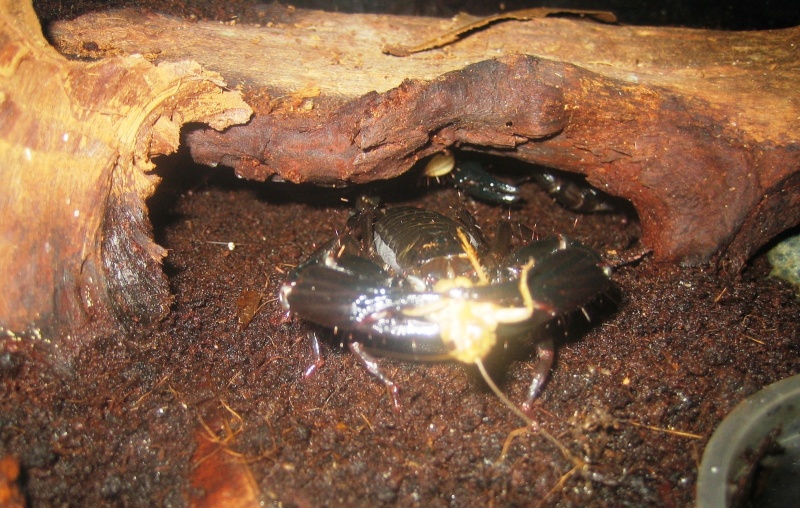 On several occasions I've noticed two or three of them would lurk like this together at the same entrace piled on top of each other, forming what appears to be a scorpion with 3 pairs of pincers; spectacular to say the least. Unfortunately I did not manage to capture a shot of that in action.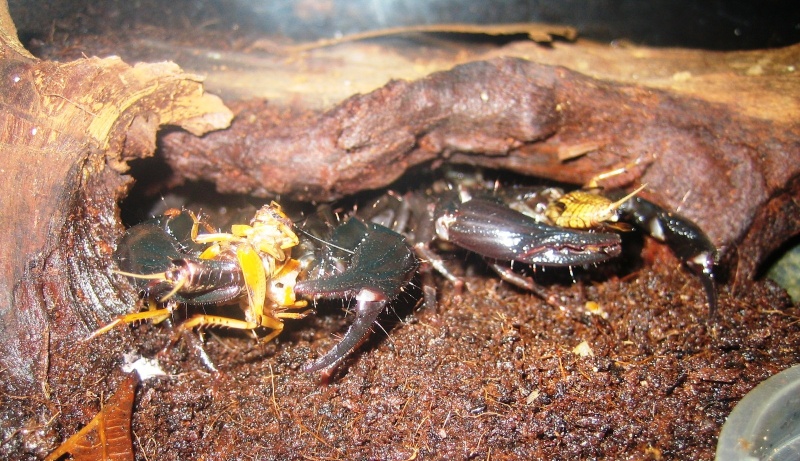 In such instances however, I've never seen them fight over food when I throw in crix. Instead, the one that is farthest out of the burrow makes claim while the others corteously fall back. The prize-winner then either pulls his catch deeper into the burrow or just sits there untill he finishes his meal. Eventually whenever he retracts, his place is taken by the next scorpion waiting in line.
In conclusion, my best guess is that when juvenile forest scorpions share a communal burrow (which they often do at this point in their life); with a single entrance from which to ambush prey, they actually take turns to lie in wait for food. This I have deduced to have two beneficial purposes. The first most apparent result of this is that every scorpion gets equal opportunity to receive a fair amount of food without having to resort to undesired competitive squabbles. I'm not certain if they intentionally share their catch with their siblings.
Secondly, if a scorpion should decide to dine deeper in the burrow, it is assured that it may feed undisturbed while there is another scorpion posting guard at the burrow entrance. These communal tendencies only persist to 6th instr. At 7i to final moult, they begin to show preference to occupy a burrow of their own.
How does this relate to understanding the behavior you have experienced with your emps. Well for one, I've been told that H. spinifer are somewhat similiar to P. imperator with regards to their ideal levels of temperature ad humidity and even to some extetn behavioral personality. I live in Malaysia where temperature is the least of my worries; these are local scorpions after all. I do nonetheless take measures to maintain humid conitions with no taxing effor whatsoever. For moulting, my scorps opt to find a comfortable spot of ground outside the burrow. I don't know your country of residence but the temperature gauges imply that you live in a country where temperature is something you have to reasonably monitor when keeping tropical forest scorpions. It could be that youir emps came out together to bask in the warmth of the heat lamp. Their synchornized movements could result from the identical need to raise the temperature of the same bodysurface areas . Just a guess, not to be taken as serious expert opinion for I do not consider myself to be.

By the way nice scorpions. Cheers