My Expanded Arachnid Rack
Iíve been meaning to post this up for awhile, but Iíve been kept busy with work-related stuff and I needed time for this system to come together. When it finally did, the rack expansion worked itself into a practical efficient system of storing and managing my invert collections; helping to cut feeding and cleaning time from 3 hours of my life to 1.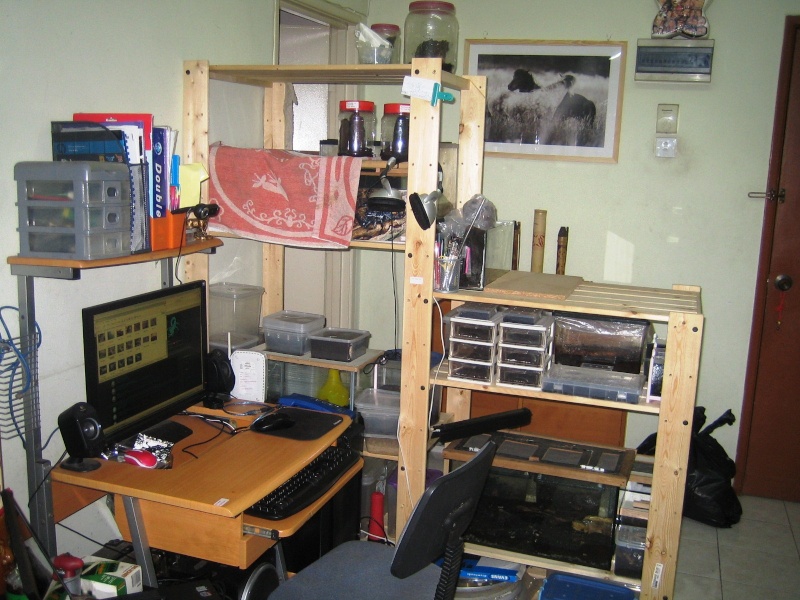 Adjacently located to my pc station, the rack extension also serves as a platform for me to perform all my invert chores without getting down on all fours.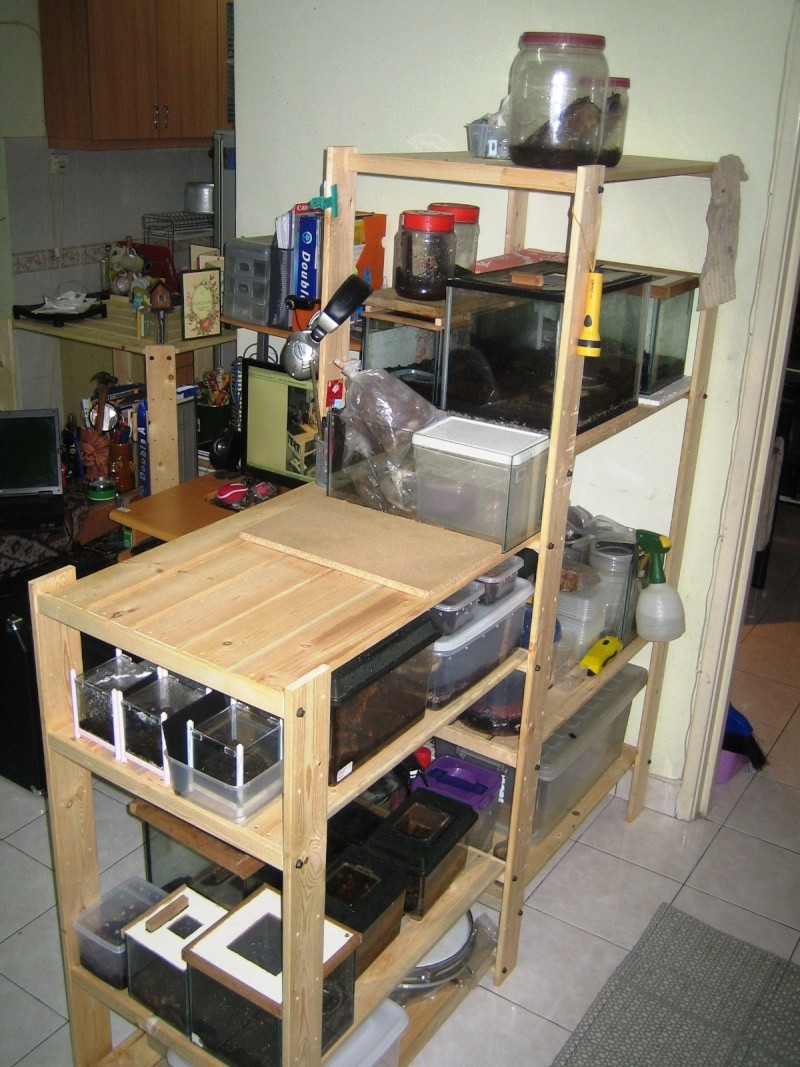 Penthouse Suites
: The other side of the penthouse level is covered by a towel to provide shade for Angieís (
H. spinifer
) maternity crib (far right). I can lift the towel to view the window to her burrow. On the left is the 7i tank where I currently keep 3 of her babies that have reached 7th instar,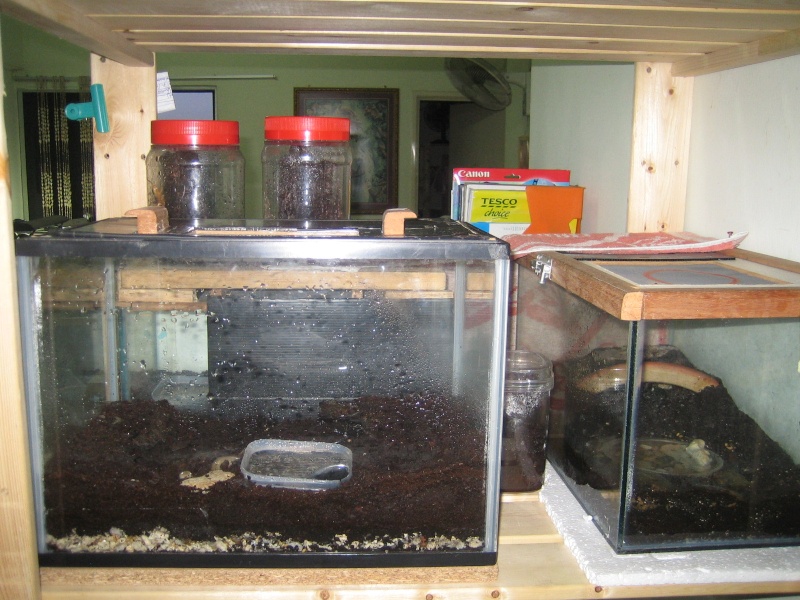 Here is a closeup of the 7i tank for which I finally constructed a snug secure lid.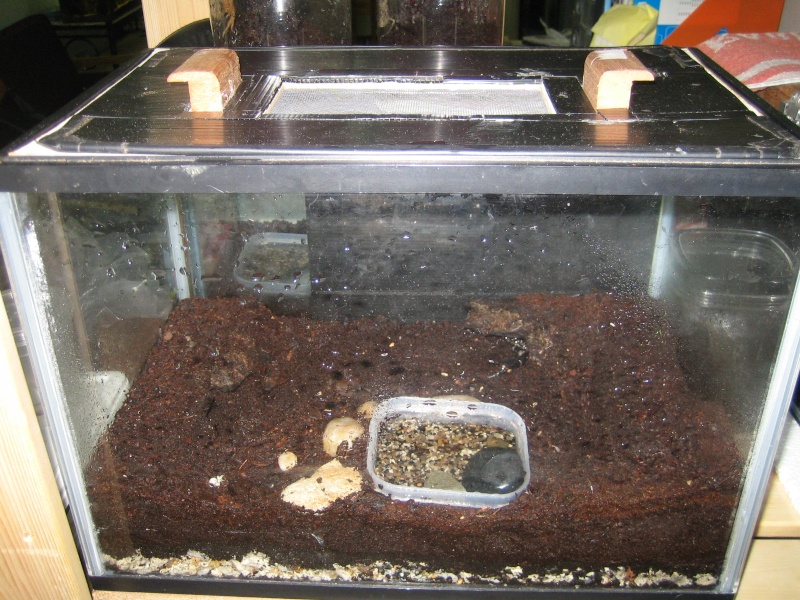 Side by side of this is a low tank where I house my WC spinifer: Dusun. She was caught as a 5th instar and after 3 molts has recently become a full-fledged adult (my girlÖ is all grown up).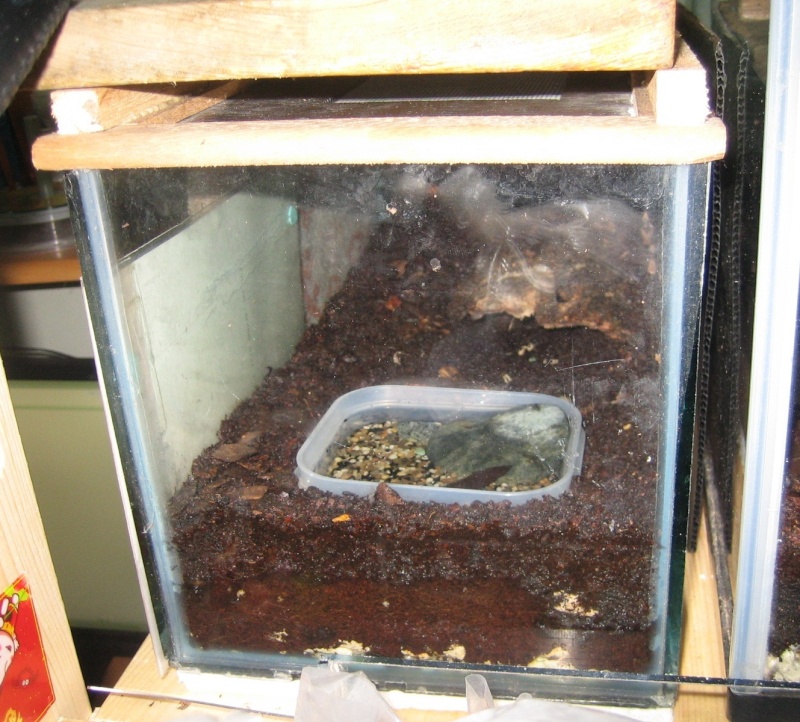 Her tankís top is weighted down with a chop board on top of which Iíve put the two jars housing my Orange Hairy
Thelcticopis modesta
(visible) and my recently deceased Lichen huntsman
Pandercetus sp
.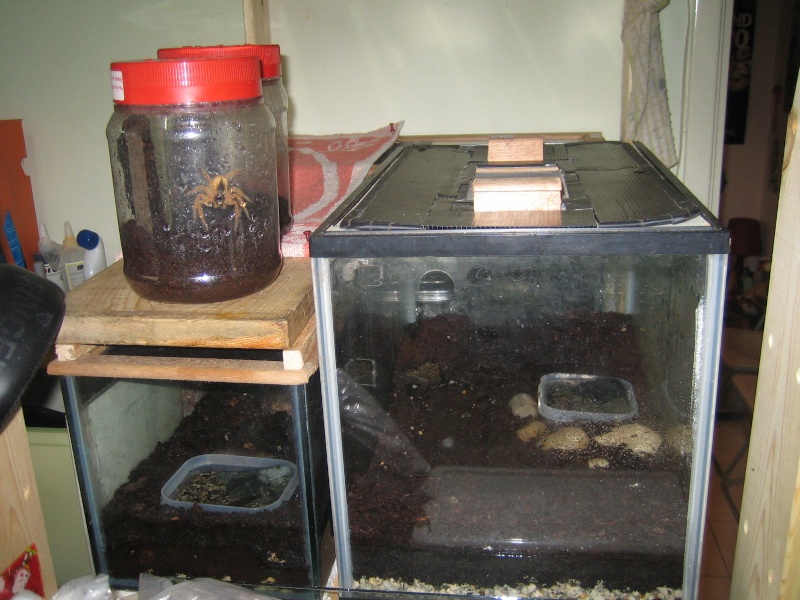 Snuck in between Angieís birthing crib and the 7i tank is the cubicle for my Borneo trapdoor spider (unidentified).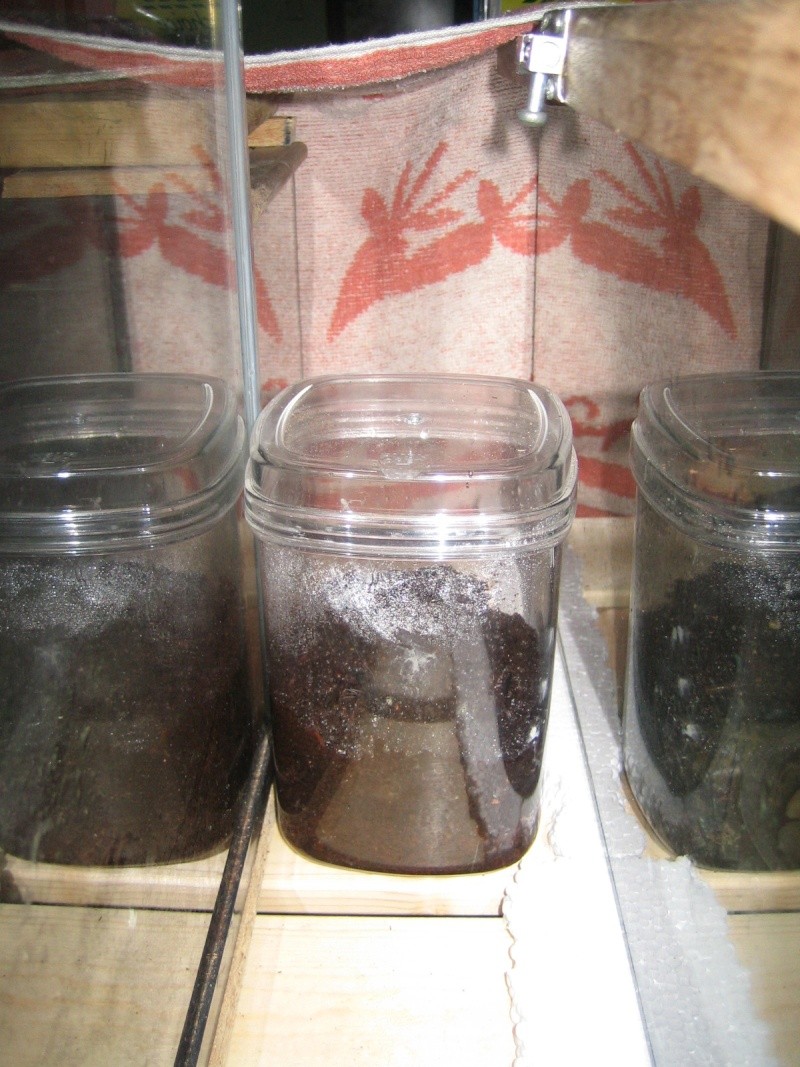 Before I forget the loft is where I stash the monster jars; housing my Giant Green Huntsman
Heteropoda boiei
, and my undescribed Malaysian Black and Gold arboreal tube-builder.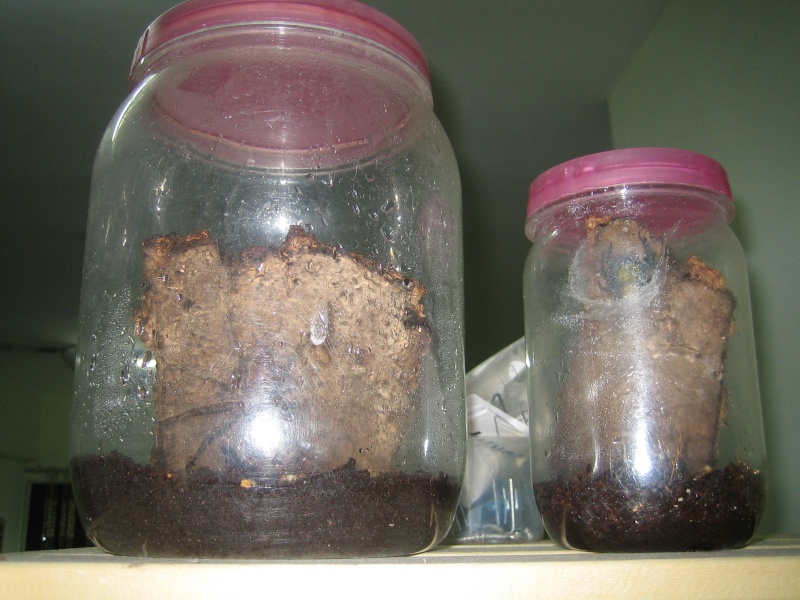 Below the penthouse lies the heart and most essential component of the my rack system: the supply depot. Here is where I stash ready to be used tupperwares, plastic cubicles, jars, packs of substrate and bark pieces ready for use, tweezers, tongs, flashlights, water sprinklers, crix and mealworm supplies and every conceivable item for all my invert needs.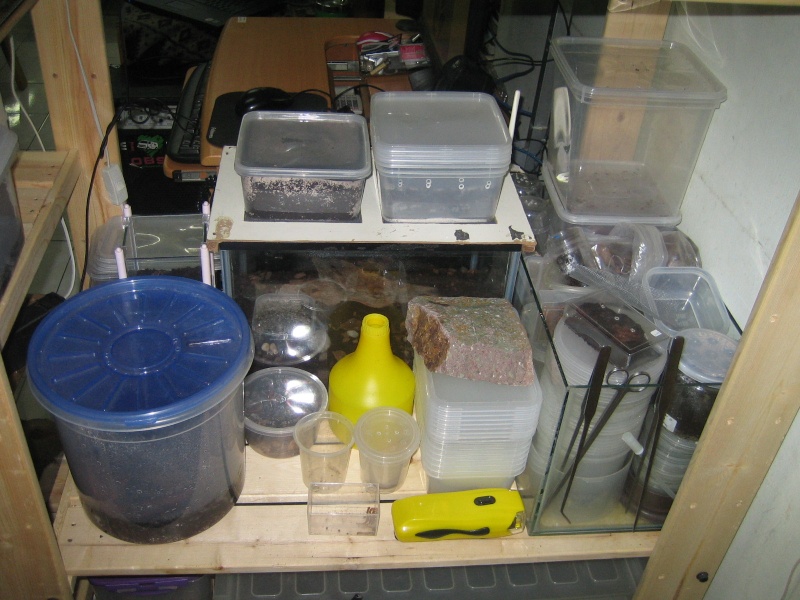 I even have a standby tank (topped with the white lid with two square tupperware stacks on top) for the random sizable critter caught from any herping trips. The only pets I keep on this level are 3 red Scolopendra centipedes in the cylindrical tub with the blue lid.
At the bottom of this is where Iím temporarily boarding a female Albino Burmese
Python molurus bivittatus
share-owned by me and two other of me mates. Weíre planning to fatten her up for breeding with a male Green patternless Burmese. Canít wait to see what the babies will look like.

The extended rack/workbench, which I mentioned earlier, has been an absolute convenience wonder to all my invert chores. Below that is where I house all my miniature knights and scorplings of the great black forest battle tanks.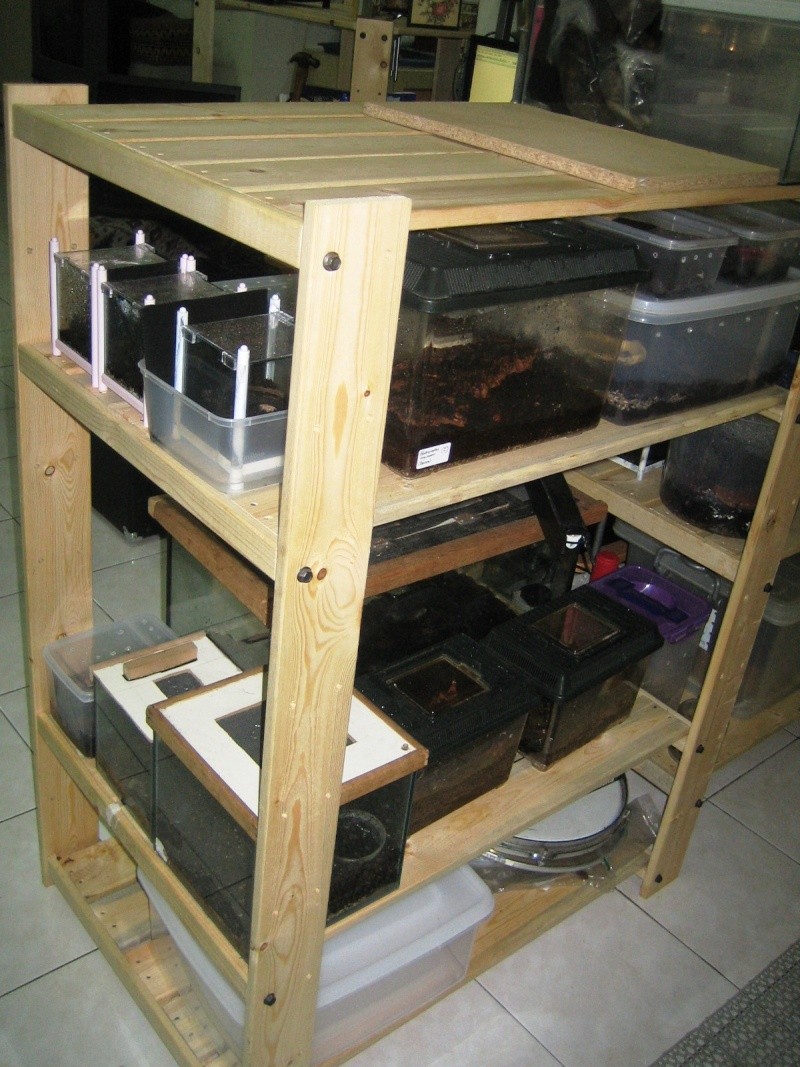 Right underneath the workbench is my Liocheles dresser where I stash individual housing cases of my Dwarf Wood Scorpion collections which include two subspecies:
L. australasiae australasiae
and
L. australasiae borneoensis
. Each individual is labeled with its capture location.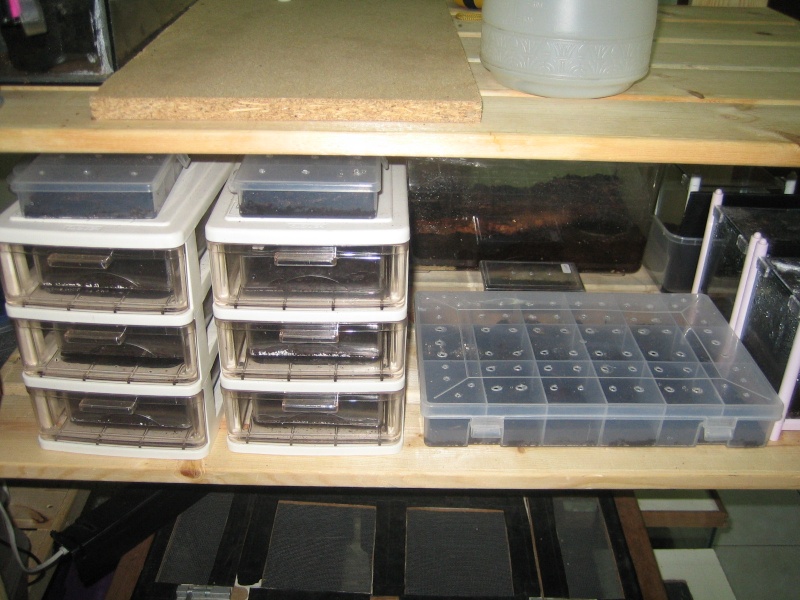 The dresser drawers house all my adults individually in business card jewel cases; two cases per drawer in six drawers housing a total of 12 breeding adults.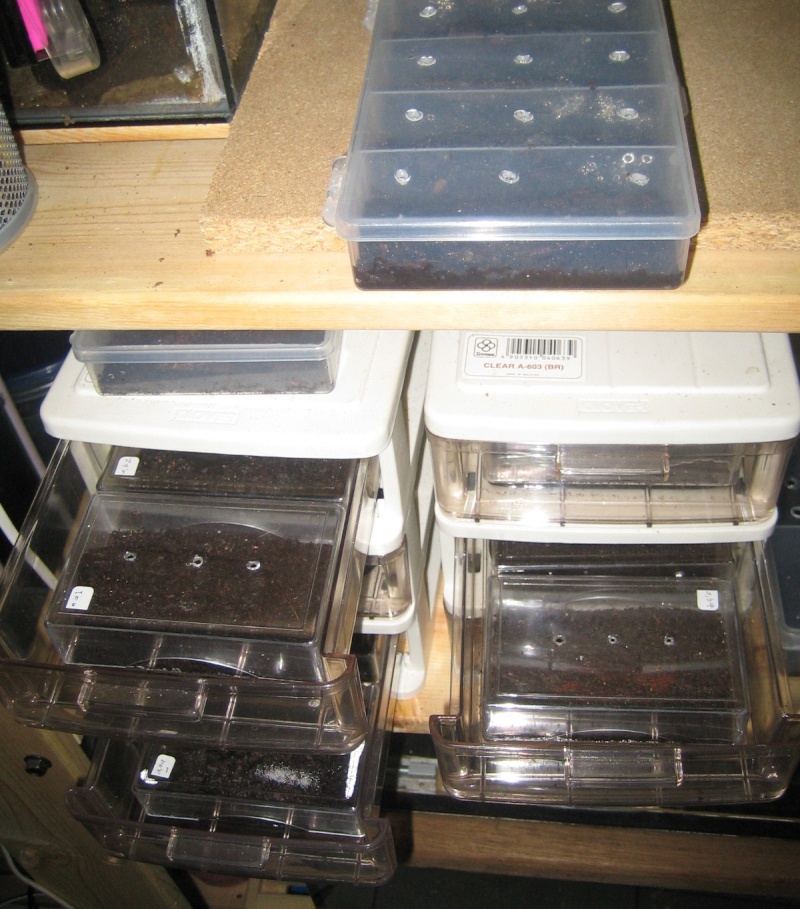 After experimenting with many types of containers including cotton bud dispensers, Iíve found business card jewel cases to be the best enclosures for housing this species by far. After transferring my Dwarf woodys into these, I almost immediately had multiple births.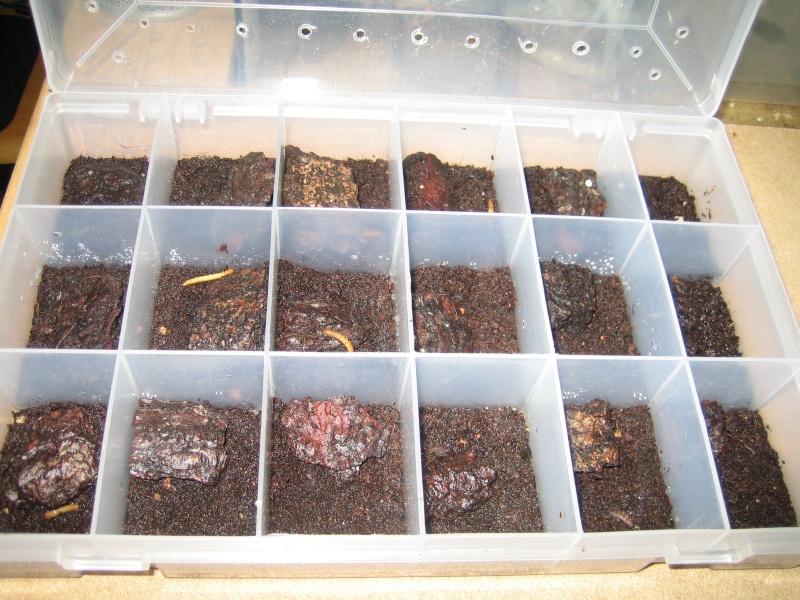 These plastic combo units are ideal for housing my successfully raised batches of captive hatched Dwarf Woodys which are currently close to adulthood. These units are available at most hardware stores.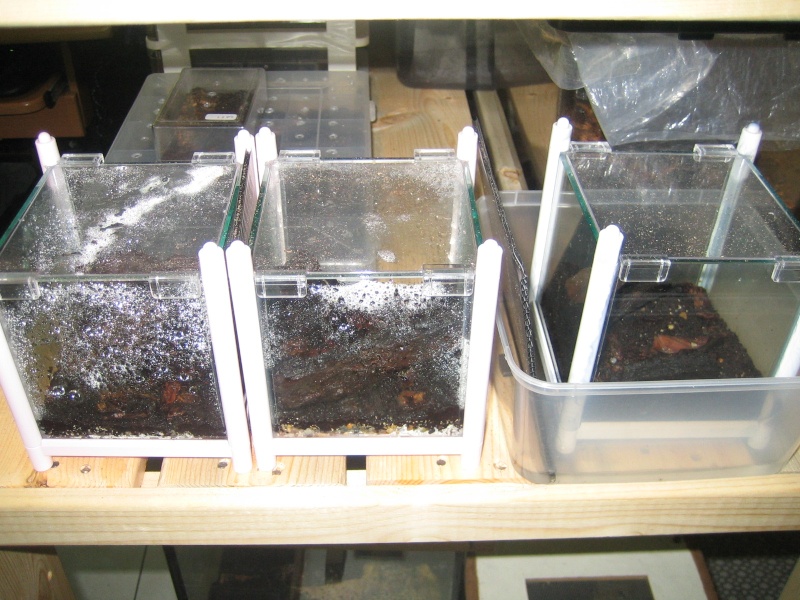 On the left wing of this level are my betta boxes where I house my Sarawakian leaf liter amblypigids
Sarax sp.
, in the 1st two and the WC
Chaerilus sp.
mother with babies. The plastic water tub is to safe guard against the onslaught of ants.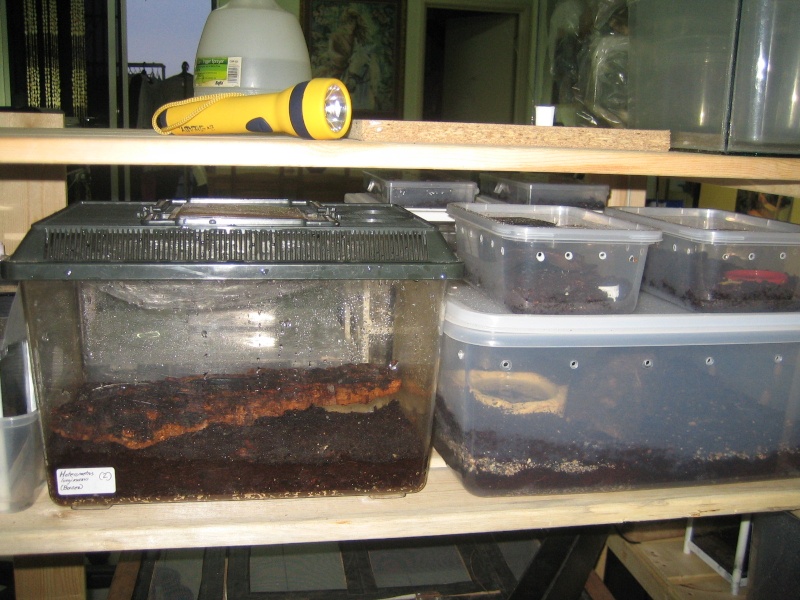 On the other side of the Liocheles dressers are miscellaneous Heterometrus scorps. The critter keepers houses my 2
longimanus
scorplings I got from my dad last Xmas (love you dad). The wide Ďrubbermaidí holds 5 of Angieís kids at 6th instar. On top of that are two tupperwares housing 3 unidentified Heterometrus scorplings of . The one on the left is my probable
laoticus
, and the one on the right houses a pair of 3rd instar Het scorplings whose identity Iím still absolutely clueless.
Below the dresser level is a display tank currently housing 6 of Angieís kids at 6th instar.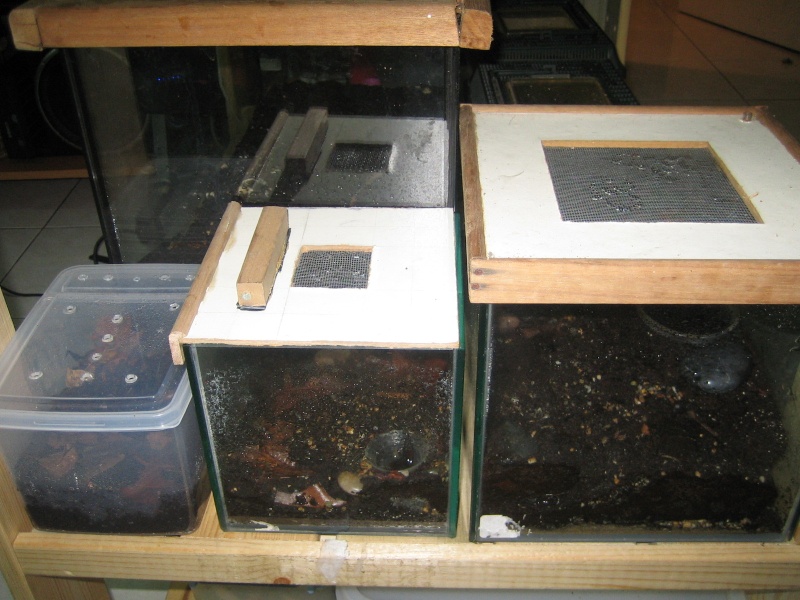 On the side are my 3 WC Vinegaroons whose species still eludes me. The plastic tupperware contains a WC specimen from Kemensah in Peninsular Malaysia while the other two are WC specimens from Borneo. Iím keeping them individually until I have confirmed their species and sex.
Finally, behind the display tank are 2 critter keepers where I keep a store-bought Vinegaroon and a male
Liphisitus malyanus
(Malaysian trapdoor) which Iím temporarily boarding until a potential female is found.
In addition to this I have breeding pairs of
H. spinifers
, a
Lierus qionquestriatus
, a Spitting Cobra
Naja sumatrana
, a Reticulated Python
Python reticulatus
and 11 water snakes (
Homalopsinae
) of different species not housed on this rack.