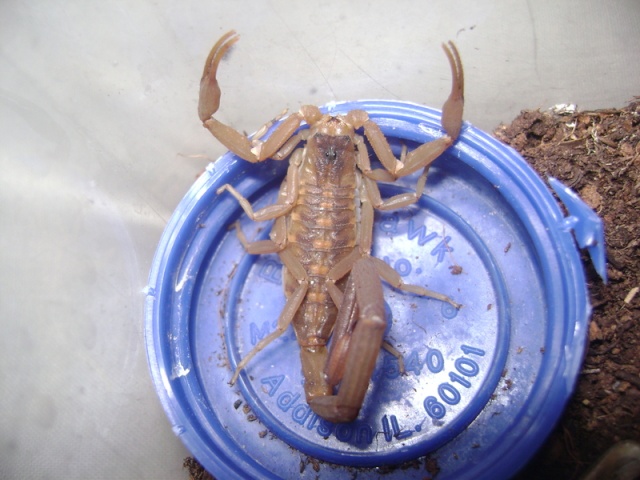 Centruroides Vittatus is also called the striped bark scorpion, or Texas bark scorpion, Vittatus means striped or banded in latin. It is the most common scorpion in the United States found in the inner southwest states, north up to souther Illinois and Missouri and East to the state of Florida and south into Northern Mexico. There are two morphs, Mesic and Xeric(Xeric -dryer , Mesic- humid). This specie is highly adaptable which is why it is very common. It has been known to withstand sub-zero temperatures.
Enclosure:
These guys can be densely packed. I had 13 in a 10 gallon and still had enough space to fit more.
A 2.5 gallon critter tank is plenty for one as long as they have vertical shards of bark to stay on since they are considered semi-aeroboral.
Hide:
One of the reasons these scorpions(or any bark scorpion) is neat, is the fact that they rest on bark which can make them visible all the time. They are not burrowers. They usually stay on the dark side of the bark. The most cormftable place for them is cracks in between the wood, they squeeze in and are almost impossible to get out. So in conclusion, use a piece of wood with crevices in it so they can hang on to, or crawl into.
Humidity:
Humidity isn't much of a concern for these guys. 60-75% would be their preference, but these guys are very resistant and can tolerate humidity much drier, or much wetter. Always have a bottlecap of water though, or mist once to twice a week.
Temperature:
Their preference is 75-85F. But as stated before, they do live in colder climates and can survive sub-zero temperatures when needed(This is something best left to those in the wild.) I keep mine at room temperature, no special heat needed. My room got to the high 50's a few times at night in winter and to the high 90's in summer to give you an idea.
Substrate:
I use a mixture of sand and peat moss, or just peat moss. I used only sand only for a few months, but I was recommended peat moss. These guys only use the substrate at night when they walk around, so it really isn't as important as it is to other scorpions.
Communal:
These are number one when it comes to communal scorpions. Like all scorpions though, there is always a risk of cannablism after a recent molt, so it's always best to keep only adults together. Also, they can be kept together with Centruroides Sculpturus. it is said that any centruroides can be kept together and that only their temperature/humidity needs are what keeps it from happening. So my guess is that they can be kept with the centruroides from Mexico since they live in similar condtitions.
Venom Potency:
Never heard of recorded deaths from this scorpion. Sting is probably a tad more painful then a bee sting. Ratng is given is usually 2/5.
Sexing:
Like all centruroides, the female has a fatter shorter metasoma(tail)
The male has a longer, skinnier, metasoma.
Other information:
-All instar scorpions will need a piece of bark so they can properly molt. Make sure it is not perfectly vertical(90 degrees) for they need to hang upside down. 45 degree angle and up is best.
-Second instars are very small and will need fruit flys.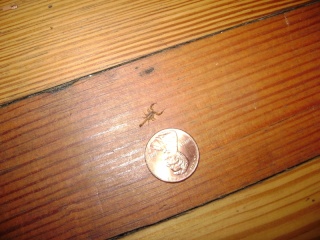 -One of the easiest scorpions to keep since you can keep them in your room with no special needs like high humidity, high temps, deep substrate etc.
-These, in my opinion, are good beginner or second scorpions(or first communal scorpion setup). Everyone always recommends B.Jacksoni, but these are much easier to care for and are cheaper. And since they are so common, you may even find one in your backyard!
Hever Ignacio Borjas